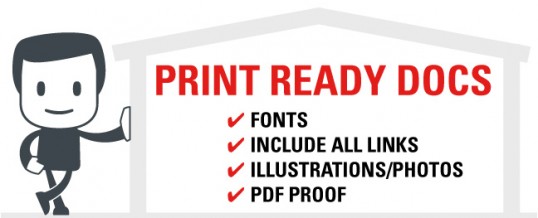 We prefer PDF print ready files for output however it is always a good idea to collect your finish product and ensure all fonts and link images and raw files are ready to be submitted to avoid delays.
Fonts
If you are submitting a vector file from Adobe Illustrator or similar program save a copy for yourself in case text need to be edited later, but before sending to print with all your layers unlocked select all your elements and convert fonts to outlines making sure this will ensure no font replacement happens.
If you are providing PDFs, you must remember to embed your fonts. Otherwise your layouts will be re-flowed using other our system fonts and can result in an unexpected result.
If you are providing InDesign or Quark files, you should use the function of these programs to collect for output (or package), this will ensure all proper version of your fonts are included, you should NOT manually collect the fonts as this can cause font substitutions.
Images
If you sending us a Quark or InDesign file you need to collect (or package) for output this will ensure all your images are also included. Not providing your images will cause a delay on the production of your project.
Before submitting your layout for printing makes sure to delete any extra channels or layers, and delete any extra graphics or text that are on the margin of the layout. If possible flatten layers. Also it is a good idea to go to your colour palette and delete any unused colours. Taking this extra step will diminish delays and errors.
Before going to print we will provide you with a proof, make sure to review all details to ensure text and graphics look like desired.
With your company sales on the line do not hesitate to call us our professionals can guide you to help you reach your goals! Contact us today!
Share