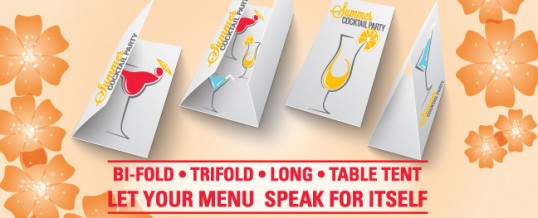 Hungry for more profits? Restaurant, bars, cafes, and even fast food vendors often overlook menus but for a restaurant this is your most cost effective and most profitable investment you can make. As a restaurants owner you want your menu to motivate your customers' appetite so a well designed menu along with spectacular food photography will be bringing customers by the dozen. Children's menus that can be used as entertainment pieces for those young visitors are priceless. They will allow parents to enjoy their meals and keep peace at the table.
There's no reason why your menu can't become a perfect direct mailing or advertisement piece especially when coupled with a limited time coupon will have your business booming!
Keep in mind menus are not just for restaurants, make your wedding extra special with personalized menus. Add a unique touch to your special occasion by creating a printed menu. Menus can be used at retirement parties, holiday celebrations, birthdays, graduations, fundraisers, etc.
Quality printing with a high gloss finish will help you put the finishing touch to your presentation and will have your customers coming back for more!
Let City Press get involved in your print project today and let our knowledgeable staff ensure your next marketing piece will truly impress your clients, call us Today (204) 988-1177
Share