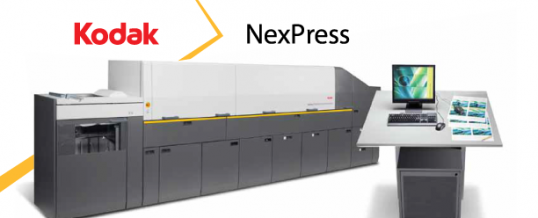 Winnipeg's only Hi-Definition Digital Production Press
Kodak Nexpress SX2700
We are pleased to announce the introduction of a genuinely innovative technology that is set to revolutionize the way we print, the way we design and the way we market. A fast, eco-friendly technology that delivers results comparable to traditional commercial printing and beyond.
With a fifth printing unit added to the standard CMYK colours, the NexPress delivers flexible in line capacity to:
add matte or gloss coatings, spot or flood
create vibrant colours and more accurate Pantones
offer unique dimensional ink for surface texture
supply a very wide variety of paper choices without compromising ink coverage or print quality
light black enables extremely smooth skin tones while maintaining superb detail
All features that can be built into any variable imaging.
… and maybe the best part is that premium innovation doesn't mean a premium price.
When you are looking for consistency, reliability and productivity leave it us!
To make your next project BOOM contact us today by calling (204) 988-1177.
For a demonstration talk to one of our sales professionals who can show you what City Press can help you achieve.
Share