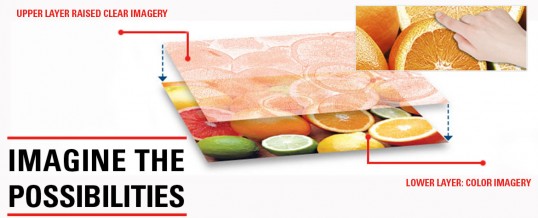 The Difference you can see and feel
Give your designs a tactile component with Clear Dimensional Dry Ink. A very unique
development by Kodak, this 3D ink can be used to add that extra attention getting
component to any design helping your printed piece stand out in a crowded marketplace.
Dimensional Printing takes place inline, maintaining press productivity while creating high-impact results that grab a reader's attention.
How It Works
Dimensional Clear Dry Ink is a new dry ink that creates a clear "raised" layer on top of a page element after fusing. It can be used to enhance graphics, text, or a full color image.
The overall tactile effect is similar to thermography, but with a greater degree of control—Dimensional Printing can be set to produce variable heights, so you can more closely mimic the texture of a specific image. And unlike thermography, which can only be applied to ink, Dimensional Clear Dry Ink does not require ink or an image to adhere to the paper.
Good for your business, better for the planet!
Like all KODAK NEXPRESS Fifth Imaging Unit Solutions, Dimensional Printing creates prints that are recyclable. Dimensional Printing does not require any special de-inking and uses no volatile organic compounds (VOCs) so you can produce prints that drive more profit per page and is still safe for our environment.
Take it to the 'Nex' level.
Works especially well on noticeable textures. Dimensional ink is clear and can be used on it's own or over top of a printed image. The depth of the raised ink is as easy to control as the colour of ink in your files. Created a spot colour in the image files, 100% "raised" is full height and fully noticeable, less dimension is created by simply decreasing the percentage of ink.

Share