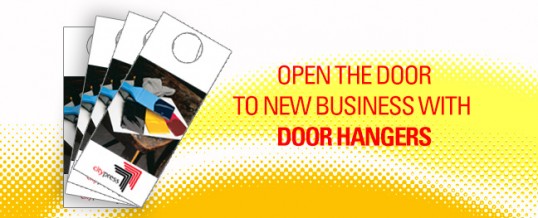 An effective and quick way to spread the word around town. They are typically used for guerilla marketing campaigns to target specific neighbourhoods or areas of towns. Door hangers are hard to ignore as they hang from doors and provide a highly visible marketing campaign.
The most common order options are 4.25″ x 11″. Door Hangers are usually printed in full color on both sides and can be coated to protect it from moisture.
They are commonly used for political campaigns, Realtors, local business, neighbouhood restaurants, business promotions and products. Door Hangers often include discounts, coupons, or special offers. We would strongly suggest to add a QR code to your design to link directly to additional online information, this will allow to update your marketing campaign and promotions without redesign or reprint your door hanger. QR codes provide a quick link to your webpage, therefore potentially providing your audience with a vast amount of information regarding your business.
Share