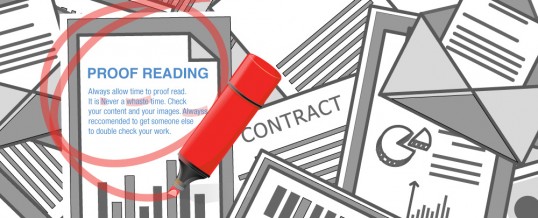 When confronted with a tight deadline proofing can feel like a luxury however proofing can save you time and money.  It could be the difference between a job well done and the embarrassment of having a name misspelled or having to pay for re-printing your project.
Proof All Text – Read your headlines, paragraphs, side notes, etc. Check for typos, grammar, punctuation and proper content. Read it more than once.
Proof All Images – Considering you are using a high res image in CMKY colour mode, keep in mind that the colour you see on your monitor will not match 100% what you see in print. Why? because each monitor will display according to your pre-sets, also your monitor uses RGB to display your colour while in printing CMYK is the standard. Requesting a PDF proof is a good way to start however a printed proof will be more accurate.
Proof Your Whole Project – start by proofing it on screen. Double check your text, your photos, type placement, illustration and content one more time!. Make sure bleeds and crop marks are correct and your job is ready to print. Having someone check over your work is always a good idea.
Only after you check your project then give the ok to print, City Press will do the rest!
Eighty Three years in the printing industry has earn City Press it's reputation of excellence in printing. Located in Winnipeg we can ship your printed project all across North America. Don't hesitate Contact City Press today by calling (204) 988-1177.
Share