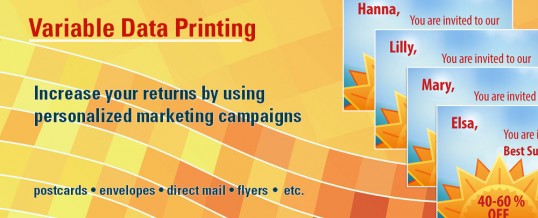 Variable Data Printing (VDP) is also known as personalized printing. It includes the mass print production of a specific piece with personalized, or variable, fields. It automates the direct mail process so that each direct mail piece can look as if it's been carefully designed and printed for each individual. Smartly executed, it maximizes the relevance of your direct mail piece and drives responses, making your campaigns more effective!
Applications of Variable Data Printing
Postcards
Direct mail promotions
Envelopes
Personalized Invitations
Buck Slips
Flyers
Brochures & Catalogues
… Your imagination is the limit!
Benefits of City Press Personalized Printing
Faster Turn Around
Allows for individually targeted offers
Allows small quantities to large mailers
Proven ability to generate greater consumer response, connecting with customer in a unique way
Target audience address printed directly on the mailed piece – ask about our direct mailing services
Ready to increase the effectiveness of your marketing efforts with personalized campaigns? Call City Press today to speak with one of our knowledgeable VDP experts!
Share