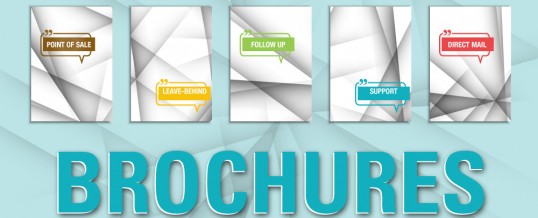 You might wonder where should you focus your marketing efforts: postcards, printed advertising, billboards or simply a brochure. Lots of times this is decided on your company and budgets, however brochures are the best way to market.
A well written brochure can allow you to deliver a good amount of information to  a specific target audience. A few questions you need to answer before deciding is who am I talking to? where may I find them? How would I find them? This will help you to focus your company's voice on a more precise and direct way, making your marketing efforts more effective, and your marketing dollars worth more. Knowing where and how your client has reach out to you can help you decide on what type of brochures your business needs.
There is 5 main types of brochures:
Point of Sale Brochures – These brochures are the most diverse and popular of all. You can find these brochures at info centers, malls, retail stores and just about anywhere where products are sold. When found at an info center for example after a proper introduction to one of your service it may offer a specific invitation to stop by and take advantage of an offer. They tend to be timeless. It can serve as a reminder to the client who has already seen your commercials, posters, mobile advertising such as public transportation banner. They tend to be somewhat specific of one of your services.
Direct Mail brochures –These are brochures that you can send to potential clients, letting them know about your business, offers, etc. Use your images and headlines wisely as these can determine if your brochure would be quickly found in the recycling bin without being read. This can be a more general brochure regarding your business. This Brochures can be used to introduce your business, highlight a new service or a new promotion. You may want to encourage the recipient with a promotional offer, even a coupon.
Follow up Brochures -These brochures are used as a follow up or a inquiry response after your new customer has reach out to you, could be through a phone call or when they stop by. It can be included with a response letter. These brochures go beyond a mere introduction but are pack with data much more so than support brochures, their function is to help you close the sale.
Support Brochures – These brochures can be used by your sales team either in store or a house call to highlight an specific service. It may contain actual data, bullet points and important information relevant to the inquiry. Unlike Direct Mail brochures the Support Brochures tend to be more focus and can help close a sale. Perfect for the undecided customer.
Leave-behind brochures – These brochures work together with your support brochures and are brochures that your sales team may leave behind after a sales meeting. They summarize the sales presentation highlighting the main points on the sales pitch and help wrap up your sale presentation. If you have undecided clients you may want to offer a specific sale or discount to new clients.
Study your clients, study your needs and start developing your brochure! City Press can help with the design and layout! We can print a small or large run. Also don't forget to consider the different brochure sizes and folding options!
Share