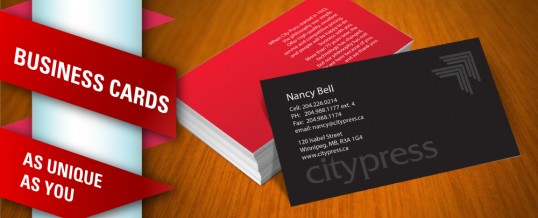 In this highly digital world it is easy to exchange information on the click of a button, with a text, an email or a link to your website, so some business may wonder why should I spend money on business card when I can just print them right here from my desk on my inkjet printer? Well we see business cards as a way to make a statement, a way to stand out in an over-saturated world or simply as conversation piece. Your business cards are more than an exchange of information it could be your first impression to potential customers. It's a Marketing piece!
Whether you are starting a new business or needing a new business card order, City Press Printing in Winnipeg can help!
Some Key features:
Most common paper options:
Cougar -100lb or 80 lb cover- matte finish
12 pt. Carolina – coated one or both sides
Triple Lush Paper – Choose diff colours and thickness
Some Finishing options:
Rounded corners
Laminated
Can't see the options you are looking for? don't hesitate contact the experts at City Press!

Share